Austin, Texas duo and songwriting team of Amy Loff & Eric McKinney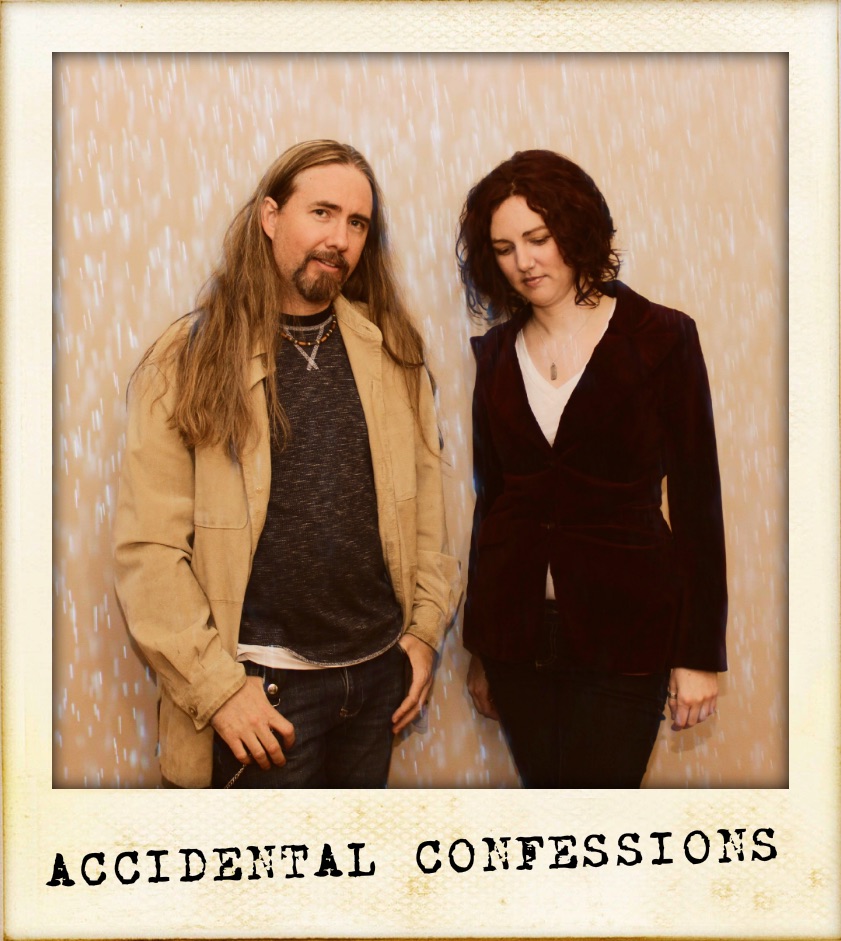 About Accidental Confessions:
A decade ago Eric McKinney's studio assistant at that given time played Amy Loff's rough demo for him. Instantly Eric noticed something very unique about Amy's voice and songwriting. Wanting to hear more Eric emailed Amy to invite her to his studio to start collaborating on songs together. Immediately they realized a creative spark as they began crafting music. At this point, Eric was splitting time between touring as a guitarist for various bands and engineering and producing artists at his studio. Meanwhile, Amy was pursuing a career as a social worker and completing her graduate degree. Although music was a passion for Amy, the life of a struggling artist was taking it's toll. Feeling discouraged, Amy slowly drifted away from a music career and towards a lifestyle that didn't consist of playing bar after bar.
After going through a loss, Amy turned to her guitar for solace. Reconnecting with music breathed new life into Amy and she reached out to Eric. Although 8 years had passed, the spark was still there. Within minutes of pulling out their guitars and playing together again, they decided to form a duo and songwriting partnership. Accidental Confessions was born.
Within a few months of getting back together, they had written more than enough songs for a debut album. After many late nights in the studio and Amy often falling asleep during mixing sessions, Accidental Confessions is working to complete their first album. Although the album isn't finished yet, Amy & Eric couldn't wait to start releasing songs. Therefore, they started submitting to songwriting contests. They have already had songs place in the semi-finals of The International Songwriting Competition and runner-up with the Song Of The Year Contest. Stay tuned!
Funny Facts About Amy & Eric's Studio Sessions:
* They eat an extraordinary amount of popcorn late into the night.
* Amy often falls asleep on the studio couch as they are working on song mixes even though she tries really hard not to conk out.
* They have a saying of "1:00am brain", because they're often working late into the night and after 1:00am they start getting silly and forgetful and making mistakes... they have to chalk it up to "1:00am brain"...
* Often after a session, they listen to the track on their own for a few days, then reconvene back at the studio and have the exact same lyric change, or adjustments in mind for the song or mix that the other has heard or thought about.
Some Quick Fun Facts About Amy -
* She began writing songs at age 15 and has written hundreds of songs
* Began playing music in coffee shops
* Her favorite band as a teenager was Simon & Garfunkel
* Amy fronted a four piece band and became known for her energetic live performances and compelling lyrics
* Amy often uses a harmonica to accompany her guitar at solo shows
* After time away from music, has now teamed up with Eric forming the Austin, Texas duo and songwriting team Accidental Confessions.
Some Quick Fun Facts About Eric -
* Learned to play guitar from his dad, toured as lead guitarist with such bands as Kick City, The McKinney Brothers, Colin Gilmore, Mark McKinney & The Cosmic Cowboys, racking up 1000+ shows (sometimes 200+ a year).
* His favorite bands are The Beatles and Fleetwood Mac
* Eric has produced 4 #1's and 10 top 10 songs on the Texas Music Chart and Texas Regional Radio Report, and many other songs charting in the Top 40 on those charts and the Roots Music Report.
* Been credited on 500+ albums, CD's or EP's as engineer, producer musician or songwriter.
* Is a multi-instrumentalist, plays such instruments as guitar, bass, drums, mandolin, ukulele, piano/keys, lap-slide.